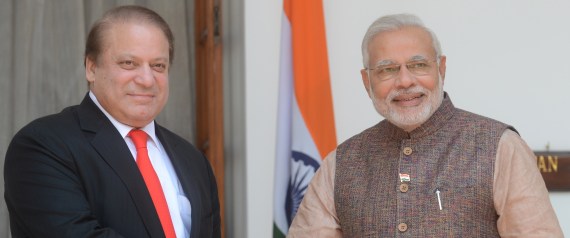 Prime Minister Narendra Modi has been in office for two months now, and he has already taken several actions to change India's social and economic direction. The most surprising move the newly elected Indian leader has made to date, however, was his decision to invite Pakistani Prime Minister Nawaz Sharif to his swearing-in ceremony. It caught nearly all observers off-guard.
It has yet to be determined whether this symbolic gesture will translate into substantive improvement in Pakistan-India relations. This will be dictated primarily by two factors: the mutual interests and actions of both actors and the state of security within Pakistan.
Prior to extending the invitation to Prime Minister Sharif, Prime Minister Modi had never shown much interest in reaching out to Pakistan. During his tenure as the chief minister of Gujarat, which shares a border with the province of Sindh, Modi had never given the impression of being a peacemaker when it came to Pakistan. Indeed, during the campaign, he and other BJP leaders consistently attacked the Indian government led by Prime Minister Manmohan Singh for not being tough enough on Pakistan.
That is why Modi should be lauded for transcending parochial politics by inviting Sharif, along with leaders of other neighboring countries, to his inauguration. It has once again raised hopes about normalization of ties between Islamabad and New Delhi.
Now the challenge for both leaders is to use the positive energy generated in New Delhi last month to take relations to the next level.
Twice in the past decade and a half, Indian and Pakistani leaders had made similar high-profile bilateral visits. In 1999, Prime Minister Atal Behari Vajpayee famously crossed the Wagha Border for a historic summit in Lahore. They signed a treaty, the Lahore Declaration, whose cornerstone was "reducing the risk of accidental or unauthorized use of nuclear weapons." It came just months after both nations conducted nuclear tests.
Six years later, during President Pervez Musharraf's highly televised visit to India, the two nations agreed again on a series of measures, declaring that the peace process was "irreversible."
But on both occasions the bonhomie did not last long, and the relations reverted to the default position within a short period of time. In fact, less than three months after Vajpayee visited Lahore, the two nations went to war over the Kargil heights.
It is not necessary here to comment on why those visits and agreements failed to serve as the basis for transforming the ties between Pakistan and India. Those reasons are well documented, and each side has a litany of grievances against the other. That was the past.
The relevant question relevant now is: What should the two sides do to ensure that hopes are not dashed going forward?
The best weapon against the burdens of the past is the promises of the future.
And that future looks bright for both countries at the moment. India is the third-largest economy in the world in purchasing-power parity. Its growth is fueled by an ever-growing middle class, which is projected by McKinsey Global Institute to grow to a whopping 583 million by 2025.
Pakistan is one of the "Next 11" ("N-11") countries identified by Goldman Sachs as major, emerging, 21st-century economic powers, along with the BRICS nations: Brazil, Russia, India, China and South Africa. Its middle class is already bigger in size than the populations of all but two European nations, Russia and Germany.
With hundreds of millions of young people poised to be added to the workforce in the coming decade, both nations will benefit immensely by boosting their economic relations. Therefore, Sharif and Modi should put enhancing economic relations at the front and center of the ties.
A first step in that direction would be to increase bilateral trade, which, until now, has been a casualty of political differences
Currently, the trade between the two countries is only $2.6 billion, according to India's Ministry of Commerce. In March alone, India exported to the United States nearly double the amount of goods — in dollar terms — that it exported to Pakistan in the whole of last year. The volume of India's imports from America for the same month was 315-percent more than its imports from Pakistan in the last fiscal year.
Last year, there were 36 other countries that bought more Indian goods than Pakistan, and 66 nations that sold more commodities to India than Pakistan did. It is not just the economic powerhouses in the west and oil-rich Middle Eastern nations that benefited more from the growing Indian market; smaller countries such as Angola, Tanzania, Gabon and Ecuador exported more goods to India than Pakistan did.
Because it is so small at present, Pakistan-India bilateral trade should only go one way: up and up.
A report released recently by the Atlantic Council says bilateral trade between the two nations "has the potential of growing to $40 billion in just a few years." Shuja Nawaz, director of the Council's South Asia Center made an even bolder prediction.
If India and Pakistan "were to go back to the level of trade that they had at the time of independence in 1947, you could have between $40 and $100 billion worth of trade between the two countries," he said, speaking to NPR last week. "And more important, if they open their borders to each other, you would have tourism trade. You would have religious tourism from both sides and you would have trade with Central Asia through Afghanistan."
In Gujarat, Modi was defined by two things: his hard-line politics and his laser-sharp focus on the economy. During Modi's tenure as the chief minister, Gujarat was more business-friendly than any other Indian state. As a result, it was able to attract foreign investments worth billions of dollars.
The Pakistani prime minister's presence at Modi's swearing-in ceremony, and the fact that bilateral talks were held with Pakistan on his first day in office, not to mention a number of pro-growth measures he took in the first few days in office, signal that Modi will follow the same pragmatic and business-friendly policies in Delhi as well.
Thus, the future for improved relations looks quite promising. The one major obstacle could be the Taliban threat to Pakistan and to India.
The bombing of the Karachi airport on June 8 is an indication that a tenous détente between the Pakistani government and the Taliban is coming apart. In response, Pakistani fighter jets bombed militant insurgent hideouts in the country's troubled northwest region, which has been a haven for Taliban, al-Qaida and Uzbek terrorists, and the Pakistani army launched an offensive in mid-June to rid the tribal region of North Waziristan of the Taliban.
The Pakistani military states that the offensive has killed hundreds of militants in the region, and that after a month on the offensive, it is making good progress against the militants. But it also recently reported that some senior militant leaders fled the area before the offensive was launched.
The government may be able to contain the conflict within its own borders and to ensure order. This would stabilize the situation and allow the Pakistan-Indian relationship to continue to evolve and move forward. If, on the other hand, an incident were to occur in India such as the attacks on Mumbai in 2008 by Pakistani militants, all bets would be off.
No one can predict the future or control the minds or movements of radicals and extremists. What can be said with certainty is that if both leaders continue on the path they trod and the journey they started on May 22, we may be witnessing a new era in Pakistan-India relations. Rhetoric will be translated into reality, and both nations and their citizens will be the beneficiaries.
To get regular updates on what Frank and Ed are writing and reading, subscribe to their newsletter by clicking here.